Single & Multiple Dental Implants - COLORADO SPRINGS, CO
No More Discomfort or Embarrassment
Single & Multiple Dental Implants - COLORADO SPRINGS, CO
No More Discomfort or Embarrassment
Smile and Live Confidently Again!
Do you have one or more missing teeth? Those gaps can make it difficult to eat and speak comfortably, not to mention make you feel self-conscious. At My Dental Company we know how even one missing tooth can compromise your quality of life so significantly. With a mission of improving the quality of life of all our patients, we're as eager to see you enjoy normal daily activities again as you are. Dr. Doug Olson is ready to make that a reality with a dental implant in Colorado Springs, CO.
Dr. Olson offers over 15 years in practice along with hours of ongoing training with worldwide leaders in modern dentistry including prestigious Spear Education. Truly passionate about providing his patients with the most high-end and effective care to improve their lives, he is also well-versed in the mouth-body connection. He understands that missing one tooth can lead to harmful bone loss, additional tooth loss, diet limitations, and a diminished self-confidence. He combines this awareness and expertise with a dedication to Christ-like service in order to restore your smile along with your overall health, happiness, and emotional wellness. He'll change your life!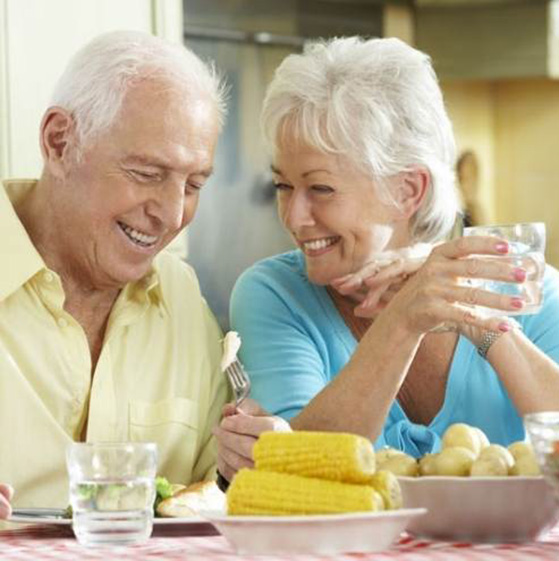 Life-Changing Advantages Of Dental Implants
Carefree conversations, smiles, and laughter
A Full, Healthy Smile In Three Steps
Step 1: Your Personalized Consultation
Before recommending dental implants in Colorado Springs, Dr. Olson will determine if they're the right choice for you during your consultation. He'll have you come to our office to discuss your functional goals and smile preferences. He'll also perform an examination of your oral health and discuss your medical history. We're fortunate to have an extensive range of advanced imaging equipment that allows us to get panoramic, x-ray views of your dental health. With our intraoral camera, we can even show you problem areas in real-time to help you understand your treatment.
If you've lost jawbone mass as a result of tooth loss, we can arrange a bone grafting procedure for you. This is where Dr. Olson, or another dental specialist, takes a small amount of bone material and adds it to areas where bone has receded. Eventually, that bone material will solidify and join with your jawbone, making it strong enough to support dental implants. He can provide a number of sedation options such as IV sedation, oral sedation, and nitrous oxide to keep you relaxed and pain-free throughout. Your comfort is always our top priority! Following your exam and any preparatory procedures, Dr. Olson will send you to your implant specialist to have your dental implants placed.
Step 2: Your Implant Placement
The foundation of each dental implant is a screw-like post. This post is precisely inserted into your jawbone for maximum stability. Each implant post acts as an artificial tooth root, anchoring your new tooth or crown to your jawbone and stimulating healthy bone growth. After surgery, you may qualify for a temporary restoration that allows you to eat and speak comfortably during healing, which may take as few as three months. During that process, your dental implants in Colorado Springs will fuse permanently with your jawbone until they're ready to secure your final, natural-looking, and long-lasting new teeth.
Step 3: Your Smile And Life Restored
Once your implant sites have fully healed, you'll return to see Dr. Olson for your final restorations. Depending on how many teeth you're missing and the solution you've chosen, this may include a single crown, bridges, partial dentures, or a full arch of new teeth. All of Dr. Olson's restorations are custom-made to the highest standards of quality in collaboration with a trusted and specialized dental lab. He'll choose a tooth shade that matches your existing healthy teeth for a seamless appearance. Your new restorations will provide reliable performance while chewing and speaking and also restore the beauty and confidence to your smile for many years to come.
Dental Implants on Any Budget
Dr. Olson wants you to be happy and healthy and knows that a complete smile is essential for each. To help you afford care, he provides a variety of options, including third-party financing from major companies such as CareCredit®, Proceed Finance, and GreenSky®. He also accepts many popular dental insurance plans. In addition, we offer in-house financing as well as an exclusive in-house discount plan. Ask us for details. You may be surprised to see just how affordable a life-changing dental implant in Colorado Springs, CO can be!
Get Back Your Lost Teeth!
Financing is available. Reserve your consultation!
Phone Number:
(719) 527-2626
Address:
817 Village Center Drive, Ste 100
Colorado Springs, CO 80919
Monday | 7:00 am - 7:00 pm
Tuesday | 7:00 am - 7:00 pm
Wednesday | 7:00 am - 7:00 pm
Thursday | 7:00 am - 7:00 pm
Friday | 7:00 am - 7:00 pm
Saturday | 7:00 am - 2:30 pm
© 2023 All Rights Reserved