Full Mouth Dental Implants - COLORADO SPRINGS, CO
Has Your Smile Disappeared?
Full Mouth Dental Implants - COLORADO SPRINGS, CO
Has Your Smile Disappeared?
Enjoy Life Again After Total Tooth Loss
When you have no teeth or no healthy ones left, your quality of life may be severely diminished. Essential daily activities such as eating, speaking, and even smiling become an embarrassing chore. The smile that was once part of who you are may have disappeared. At My Dental Company, our mission is to improve the quality of life for our dental family through dental excellence and Christ-like service.
That includes enabling you to eat, speak, smile, and laugh with complete confidence again! Dr. Doug Olson and our team make that possible for patients every day with full mouth dental implants in Colorado Springs, CO.
With 15 years of experience and extensive, ongoing training from Spear Education, a recognized global leader in dental education, Dr. Olson provides exceptional results for patients who've lost all of their healthy teeth. His dental implant expertise and deep understanding of the mouth-body connection—how dental health impacts overall systemic health—empower Dr. Olson to give you back your smile, health, and happiness, and even a level of self-confidence you didn't know was possible. Full mouth dental implants will transform your life for the better!
Compare Your Full Tooth Replacement Options
Complete dentures and implant supported dentures have fewer benefits and more limitations than full mouth Colorado Springs dental implants. See for yourself: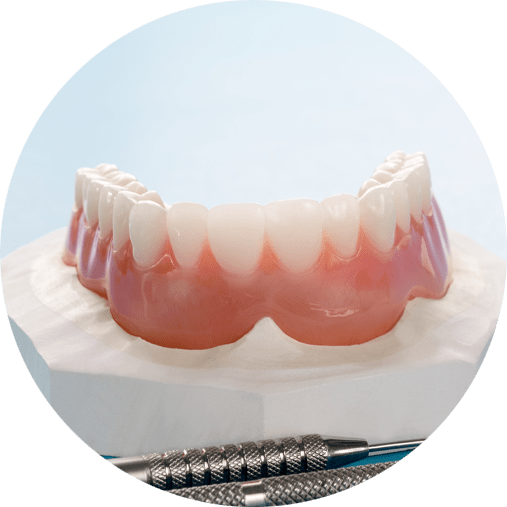 Implant Supported Dentures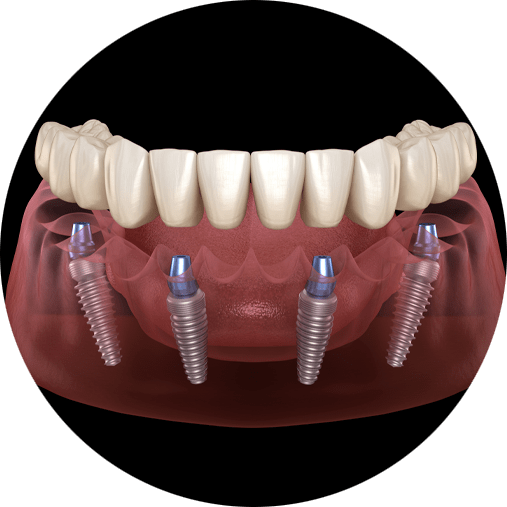 Full Mouth Dental Implants
Fixed for reliable performance
Full Smile Restoration: A Three-Step Process
Step 1: Personalized Consultation And Preparation
Dr. Olson will verify whether full mouth dental implants are the right choice for you, or another solution is more appropriate, during your initial consultation. He wants what's best for you, and you can always count on him to be completely honest about your treatment recommendations.
The process begins with a discussion of your individual smile goals and a thorough examination. Our array of advanced imaging equipment gives us a complete picture of your dental health through panoramic x-rays. Our intraoral camera also allows us to show you visible problem areas in your mouth and more clearly explain your treatment plan. Later it will also prevent the use of messy impressions by capturing precise digital ones in seconds.
If your tooth loss has also caused jawbone recession, Dr. Olson can arrange for a bone grafting procedure to rebuild it. For this he adds a small portion of bone material to areas where the bone has decayed. That bone graft material will eventually solidify and become part of your jawbone, giving it the strength to hold dental implants.
He offers sedation options including oral sedation, IV sedation, and nitrous oxide to make you comfortable during this and other procedures. Keeping you relaxed and pain-free is our number one priority! After your exam, you'll have your full mouth dental implants placed by your implant specialist at a separate appointment. Dr. Olson works closely with that individual to ensure the best results.
Step 2: The Implant Placement Procedure
Each dental implant is made of three parts: a screw-like post, a restoration, and an abutment that connects the two. During your dental implant surgery, four or more dental implant posts will be precisely inserted into your jawbone. Replacing your lost tooth roots, each implant post provides the stimulation your jawbone needs to restore proper bone health as well as properly maintain it.
After placement, you may also be able to receive a temporary restoration of natural-looking teeth that will enable you to eat and speak while you heal. During this healing period, which can take three or more months, your dental implants will bond with your jawbone permanently. This process is what allows dental implants to restore nearly complete oral function for years to come!
Step 3: A Fully Restored Smile And Life
After your implant insertion sites have healed completely, you'll come back to our office to receive your final restorations. These will be full arches of bright, attractive, strong replacement crowns that will inspire you to smile proudly again. Each of Dr. Olson's restorations is customized to fit you and are created to the highest standards of quality by the renowned and specialized lab we partner with. With your new restorations in place you'll be able to enjoy carefree meals, conversations, laughter, and smiles for decades. Just be sure to brush and floss them regularly like natural teeth.
A Complete, Healthy Smile Is Affordable!
Dr. Olson strives to make every patient happy and healthy and understands that a full smile contributes to both. With the ability to offer truly life-altering results with full mouth dental implants we do what we can to make receiving this treatment as easy as possible–and that includes how to cover the cost.
To help make your care more affordable, we offer a variety of choices, including third-party financing from leading companies including CareCredit®, Proceed Finance, and GreenSky®. In addition, we take many types of dental insurance. You may also qualify for our exclusive in-house financing plan or discount plan. Contact us for details. Don't worry—we'll find a way to make full mouth Colorado Springs dental implants affordable for you!
Reclaim Your Smile and So Much More
Explore your many implant financing options.
Phone Number:
(719) 527-2626
Address:
817 Village Center Drive, Ste 100
Colorado Springs, CO 80919
Monday | 7:00 am - 7:00 pm
Tuesday | 7:00 am - 7:00 pm
Wednesday | 7:00 am - 7:00 pm
Thursday | 7:00 am - 7:00 pm
Friday | 7:00 am - 7:00 pm
Saturday | 7:00 am - 2:30 pm
© 2023 All Rights Reserved